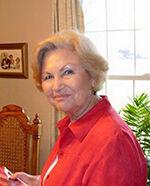 Wanda Fay (Jones) Pierce, 85, went to be with her Lord and Savior on July 17, 2021. Wanda is survived by her beloved husband of 68 years, Lloyd, of Portland; her daughter, Nora (Reed) Breedlove of Portland, her daughter, Cindy (Chris) Sims of McGehee, and her daughter, Lisa (Jim) Coats of Tontitown. She was loved dearly by her grandchildren who called her Nanny: Shane (Brooke) Sims of Bentonville, Nicole (Nathan) Madewell of Cookville, Tennessee; Jonathan (Aimee Claire) Breedlove of Portland, JoBeth (Mitch) King of Winona, Mississippi, Andrew Breedlove of Portland, Heather (Chris) Cannatella of Lake Village, and Willam Coats of Fayetteville. She was crazy about all of her great grandchildren: Autumn Mahl and Wren Sims, Lily and Adeline Madewell, Keathley and Mary Harper King, Matthew and Charlotte Cannatella, Greyson and Camille Breedlove. Wanda is preceded in death by her parents, Jim Jones of Victoria, Texas and Nettie (Granny) Jones of Portland; her daughter, Elaine, and her son, Britt. 
If you knew Wanda, you loved her. She was generous, kind, and loving to everyone. She enjoyed spending time with her family, both immediate and extended, and loved to host family reunions and Easter celebrations every year. She was a fabulous cook (her pickles are practically famous) an expert pie maker (coconut cream and pecan were her specialties), an avid reader, and enjoyed watching old movies. She loved a cup of coffee in the morning while she studied God's Word, and she loved to talk about Heaven and imagine what it would be like.
Wanda worked tirelessly for many years in her home, garden, and even in the fields alongside her husband. She could drive a tractor and a bob truck like a pro! For almost 60 years, she and Lloyd enjoyed taking their RV to Camp Wood, Texas to spend time with family and friends on the banks of the Nueces River. If you stopped by the Pierce Farm at supper time, there was always a big meal on the table and always an extra chair. She had a quick wit and a great sense of humor; she sure loved a good laugh! 
Wanda was a wonderful wife, mother, Nanny, aunt, cousin, and friend to so many and will be greatly missed by all. We are comforted knowing that she is rejoicing now, singing praises to the King with a host of angels; she is healthy and whole; she is at peace. She is Home. 
A Celebration of Life Service was held at 2:00 p.m. Tuesday, July 20th at Bishop-King Funeral Home. Visitation were from 1-2:00 p.m. prior to the service. 
Pallbearers were Shane Sims, Jonathan Breedlove, Andrew Breedlove, William Coats, Nathan Madewell, Chris Cannatella, and Mitch King.
In Lieu of Flowers donations may be made to your choice of Arkansas Children's Hospital Research, 1 Children's Way, Slot 661, Little Rock, AR 72202-3591 or Jennie Cemetery, 182 Jennie Rd., Lake Village, AR 71653