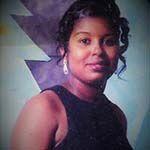 Solanda Chavett Barnett, 43, died Thursday, Dec. 31, 2020. She was a native of Bastrop, La., but a lifelong resident Hamburg. She was a member of Epistles of God Church of Deliverance.
She was preceded in death by one son, Shunlos Matheney, and one brother, Charles Henry Matheney Jr.
She is survived by one son, Kenneth Montrell Barnett Jr. of Hamburg; one daughter, Lamiracle Barnett of Hamburg; her mother, Sandra Kay Martin of Hamburg; her father, Charles Henry Matheney of Little Rock; three brothers, Chaudrion Hughes of Arlington, Texas, Terrence Howard of Hamburg, and Maurice Matheney of Little Rock; and one grandchild.
Graveside services were Friday at 11 a.m. in Carlock Cemetery in Pine Hill and under the direction of Cromwell Funeral Home.
Honorary pallbearers were Ronnie Martin, Harris Martin, Andrew Martin, Hayden Harrod, Ed Brown, Marcus Wafford.