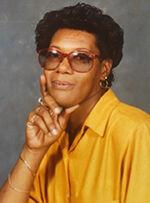 Mary Alice Block Guiden died in Little Rock May 27, 2021 after a battle with cancer.
She was born in Lake Village Jan. 28, 1955. She was a member of New Hope Baptist Church and a 1973 graduate of Lakeside School District. 
She completed her associate degree at Capital City College in Little Rock and worked for many years at Lake Village middle school. She also worked for other agencies including Southeast Arkansas Area Agency on Aging, University of Arkansas Cooperative Extension Service, Eudora Garment Factory, and the Department of Human Services.
She was the founder of Mary's Creative Crafts.
She was preceded in death by her parents, Jessie and Lorene Block, and one sister, Julia Mae "Rose" Guest.
Survivors include four brothers, Lee Edward Walker and Willie Lee Block, both of Little Rock, Richard Lee "R.L." Pugh of Springfield, Mo., and McKinley "Boo" Block of Wilmot.
Funeral services were held Saturday, June 5 at 2:30 p.m. at Central Community Baptist Church in Lake Village with Rev. Arthur Haney officiating. Burial was in Hill Cemetery in Eudora.
Active pallbearers were Jessie Guest, Aaron Guest III, Nikki Thompson, Edward Block, Byron Walker, and Hayward Kelsey.
Arrangements were entrusted to Bethune Funeral Service.