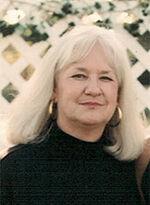 Margie Lee Dalton, 73, of Fayetteville, Arkansas, passed away on May 26, 2021 at Washington Regional Medical Center in Fayetteville. She was born on January 18, 1948 in Lake Village, Arkansas to Zane Russell Bozeman and Joyce Sutton Bozeman. 
Margie was a member of Auld Baptist Church. She deeply cared for her family and enjoyed spending time with her grandchildren. 
She is preceded in death by her parents; one brother, Jerry Bozeman, and one sister, Zanie Carpenter. 
Survivors include one son, Jeramy Dalton of Portland, Arkansas; two daughters, Lana Adams and husband Barry of Fayetteville, Arkansas, and Jody Webb and husband Brian of Fayetteville, Arkansas; one sister, Glenda Peacock of Portland, Arkansas; eight grandchildren, Ezra Dalton, Gratt Dalton, Blake Adams, Seth Adams, Kalli Adams, Gabe McGill, Isabella McGill, and Banks McGill, and four great-grandchildren. 
Graveside services will be Saturday, June 5, 2021 at 10 AM at Portland Cemetery in Portland, Arkansas.