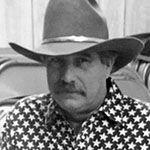 Kenneth "Kenny" Clayton Finch, Sr., age 68, of Lake Village died Tuesday, January 18, 2022, at home. Kenneth was born July 6, 1953, in Jonesboro, AR. Kenny was well known for his love of dirt track racing. He was always thinking outside of the box, he loved life, and praised God for allowing him to live the life he lived. Kenny was a kid at heart and always had people around him laughing. He had a knack for fixing things. If he couldn't fix it, he would "fix it" with a hammer. He had a passion of cooking and horseback riding. 
Preceeded in death by his parents, Gordon Finch and Patricia Finch; and his wife, Lynn Finch.
Kenneth is survived by five sons, Kenneth and wife Samantha Finch of Lake Village, AR, Nick Finch of Lake Village, AR, Justin Finch of Kilbourne, LA, Lewis Finch of Alexandria, LA, and Colt Finch of Lake Village, AR; two daughters, Ashley and husband Zebulon Cooper of Lake Village, AR, Cindy Valle of Alexandria, LA; Step Son, Brandon and wife Victoria Clark of Lake Village, AR; step daughter, Amanda and husband Scott Lehman of Hernando, MS; three sisters: Ann Finch Miles of Lake Village, AR, Debra Finch of Lake Village, AR and Christina Finch of Dallas, TX; one brother, David Finch of Seattle, WA; 14 grandchildren, and a host of nieces and nephews. 
A celebration of life service was held at 10:00 AM on Saturday, January 22 at Bishop-King Funeral Home. Arrangements are by Bishop-King Funeral Home of Lake Village, Arkansas.