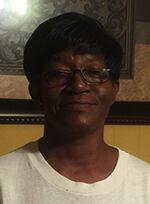 Charlotte Armelia Lindsey, 58, died May 9, 2021. She was born Oct. 20, 1962 in Eudora. 
She attended Eudora Public Schools and was a member of Eudora High School Class of 1981. She was also a member of New Zion Missionary Baptist Church.
She was preceded in death by her parents, Velma Conic and Adolph Lindsey; one daughter, Edmonia Denea Lindsey; one sister, Joyce Conic; and three brothers, Adolph Conic, Leon James, and Willie B. Lindsey.
She is survived by two children, Chonita Morehouse Akins and Jermaine Lindsey, both of Eudora; seven grandchildren; seven sisters, Grace Lindsey and Sydrana Marshall, both of Little Rock, LaTosha Lindsey, Falis Lindsey, and Angela Holiman, all of Dallas, Texas, Ophal Lindsey of Eudora, and Dianne Lindsey of Louisiana; and five brothers, Lee Edward Conic Sr. of Little Rock, James Lindsey of Oklahoma, Jamie Lindsey of Louisiana, and Adrian Holiman and Demetric Goodman, both of Dallas.
Graveside service was held Saturday, May 9 in Mason Cemetery in Eudora with Rev. David Green Sr. officiating. 
Active pallbearers were Ricky Keith, Leon Harden, Tyrone Williams, Donnie Taylor, Albert Thomas, and Donnie Ray Jenkins.
Arrangements were entrusted to Bethune Funeral Service.