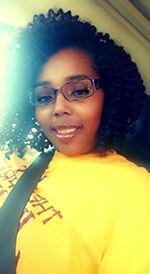 Amber Shanea Landers, 39, died Saturday, June 26, 2021. She was born Aug. 1, 1981 and attended Eudora Public Schools before moving to Kansas City, Mo., where she sang in the choir at Guided Light Missionary Baptist. After returning to Eudora, she joined St. Peter Missionary Baptist Church and founded the St. Peter's Praise Team. She was also the secretary of Helping Hands Club.
She was employed with York Williams Development Center for 12 years. She served as teacher, data tech, bus driver, and jack-of-all-trades. 
She was preceded in death by her father, Rev. Don W. Best; maternal grandfather, Cornelius Landers; paternal grandparents, Cliff and Ernestine Best; and one brother, Jimmy Lee Colman Jr.
Survivors include three children, Jeromy Hunt, Jerikah Hunt, and Jer'Don Hunt, all of Eudora; her mother, Gwendolyn Landers of Kansas City; her grandmother, Susie Byrd of Oxnard, Calif.; and one brother, Rodney Landers of Kansas City.
Funeral services were held Saturday, July 10 at 11 a.m. at the Ministers Institute in Eudora with Rev. David L. Green Sr. officiating. Burial was in Hill Cemetery. 
Active pallbearers were Anthony Green, Earl Smith, Erros Smith, Ko'Marious Reed, Tyrone Cleveland Sr., and Lawrence Webster Jr.
Arrangements were entrusted to Bethune Funeral Service.